Welcome!
The majority of Re4mado products are created from Polaroid SX-70 images using time zero film. This film was discontinued by Polaroid in December 2005, so the products are very rare and unique.
All images can be made into prints of various sizes, coasters, wood blocks, magnets, ornaments,or pendants upon request. If you are interested in purchasing artwork or would like to obtain more information, please email Rossana at info@re4mado.com.
COASTERS
The coasters are handmade using a gel medium transfer. The SX-70 or digital infrared images are transferred onto 4″x4″ bottocino tumbled marble tile, giving each coaster its own "distinctive look". Any of the SX-70 and infrared images posted on the website can be made into coasters. Custom made coasters using your own photos can also be made upon request.

MINI MAGNET SETS
These are 6 handmade magnets of digital images. Each magnet measures 1 square inch, 1/4″ inch in thickness, and are made of tumbled marble. The magnet set comes in a protected plastic sleeve.

PENDANTS
These are handmade glass pendants of digital images.  Pendants come in various sizes of squares and rectangles.

WOOD BLOCKS

Wood blocks are handmade using a gel medium transfer.  Images are transferred onto 100% artist grade Tung wood panel and each is given a distinctive look to make a one of a kind piece of art.  The panel sizes are 3/4″ deep and come in various sizes. Available wood panel sizes:
4×4
6×6
8×8
10×10
GLASS ORNAMENTS
Glass tile ornaments measure 2×2 inch square  and 1/4 inch thick. A sterling silver plated bail is attached on the back and is ready to hang with matching organza ribbon.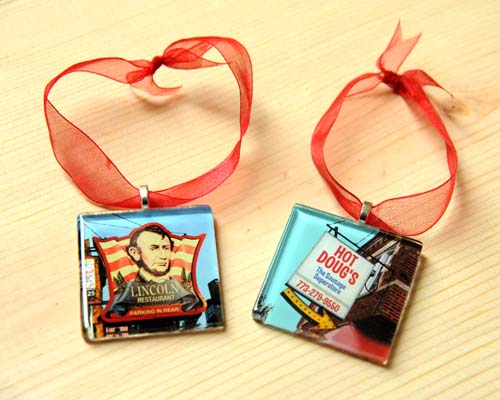 PRINTS
Available prints sizes:
8×8 – $30
12×12 – $65
16×16 – $125
20×20 – $175
24×24 – $250
30×30 – $325